Custom Hardwood Signs offer a classic and a professional look for your business, organization, or home. They are extremely durable, versatile, and can be designed according to your unique project specifications.
We take pride in our custom Exotic Hardwood Signs! Our handmade hardwood signs are designed and created by Master Control. For instance, we delight in finding wood with history and stories. Our unique array of exotic hardwoods, and traditional timber combined with names, business logos, historical markings, and more make our signs truly original pieces of art! Makes great home decoration!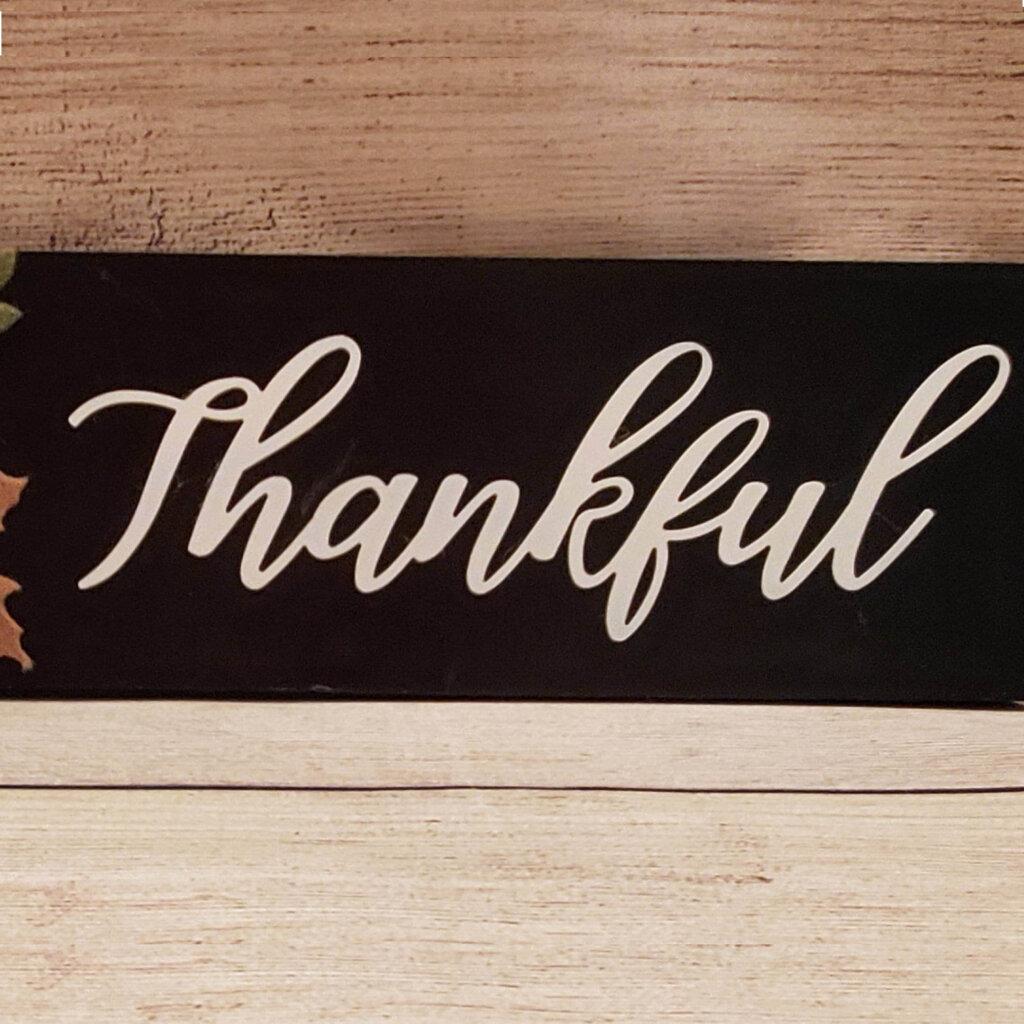 CONTACT US FOR CUSTOM ORDERS
If you want to tell us what you would like us to build from you, and you have a product that I created, reference it. Contact us if you want a new design, send me a png picture of it, even if you have to hand draw it. Just contact us.
We respond to all customer feedback and look forward to hearing from you!

Quick Production
We handmake your sign quickly & correct with quality.
Incredible Strength
Vinyl Letters holds to the sign well since we shellac over it.
Exotic Wood Types
Many beautiful exotic woods to create something exceptional
MATERIALS: HARDWOODS
We specialize in making high quality custom exotic hardwood signs, plaques, gifts, and more. Furthermore, our products can be customized and personalized for a unique gift or something special for your home or business.
Everything is handcrafted from high quality materials in our home based shop located in Huntsville, Alabama.
We work with the list of hardwoods below. Most importantly, our products are protected with finishes that allow the natural color and beauty of the wood to show through, but ensure they last for many years. Secondly, woods come in many colors, shades, and patters naturally.
Some are oily woods, these have to use a oil base to finish. We are passionate about using the real thing, not just selecting a cheaper wood and covering it up to make it look like something it's not. In conclusion, our customers can see and feel the difference and we know you will to!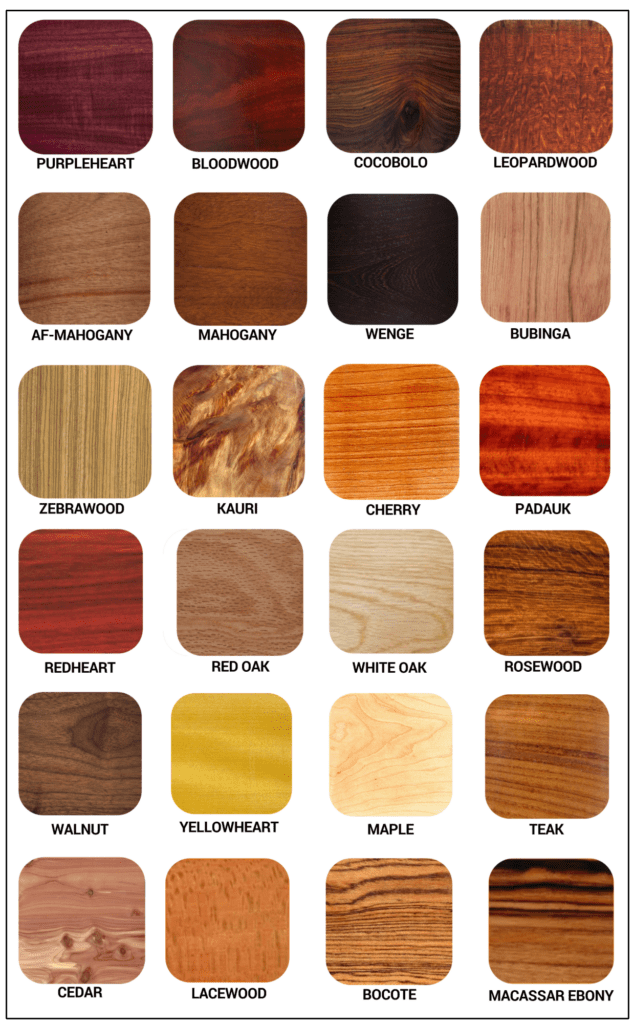 Exotic Hardwoods
Bloodwood
Bocote
Cocobolo
Leopardwood
Redheart
Rosewood
Ash
Cedar
Bubinga
Mahogany
Lacewood
Macassar Ebony
Padauk
Cherry
Oak
Purpleheart
Teak
Wenge
Yellowheart
Zebrawood
Walnut
Maple
---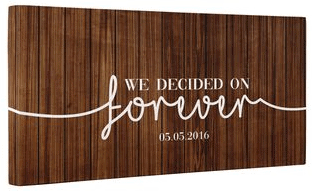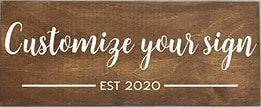 Express yourself with a custom wood signs handcrafted with care
Your words, your idea, and your design coupled with our workmanship produce personalized decor to be treasured in your home, at your business, or as a welcomed gift for decades to come. Furthermore, when you make the decision to shop with us, you know you will receive a quality-handcrafted, unique product perfect for the message you want to convey.
Think about the possibilities! Commemorate special occasions like birthdays, weddings and holidays, or give your children a personal plaque to hang on their bedroom, man cave, she shed, playroom or workshop door. Celebrate the nickname of your family home or honor your favorite pets or sports teams. Don't forget special phrases of inspiration as reminders at work too.
Our process at Master Control's Woodshop ensures you receive a handmade exotic wood sign you won't find anywhere else. You know exactly what you are getting before we begin the creative process.
We will send you the digital design and make any changes you desire before you sign off on its custom creation. We cut every piece on site in our shop from exotic wood we select at Hobby Hardwood. Rich grains, color variations that match your vision, and unique structures are only a few of the things we consider.
We then prepare the wood for your sign with great care using a 25-step process of cutting, sanding and resurfacing for your art. Applying the stains or paints you handpick comes next. Finally, your sign goes through three rounds of quality checks at Master Control's Woodshop & Signs before it is packed and shipped for destinations in the United States and Canada.
Your ideas, your design, your words. We promise you the excellent care we take in turning your vision into a reality will make your sign special.
---
Not All Wood Signs Are Created Equal
You Get What You Pay For!
Master Control's Woodshop & Signs offers the highest quality signs at the most affordable price. Our exotic hardwood signs withstand years of abuse from the elements without major defects. Not all wood signs are created equal! First off, we begin with the finest hand-picked wood and inspect it for the right grain, weight, and straightness.
Being that wood is a natural, living substance – there are many subtle characteristics of each starting piece which will affect the outcome and longevity of hardwood wood signs. Secondly, our highly specialized process of hand selection and grading of wood yields wood signs which outlive those of commercial wood sign makers.
Creating custom wood signs is still an art form, and there are fewer and fewer who keep true to the craft. However, at Master Control's Woodshop & Signs, we're not makers of mass-produced widgets which we pump out the door by the thousands per day. Taking the time to choose the right materials will reduce the risk of cracking, splintering, warping, and leafing.
Take in consideration, that in the Wood Magazine article titled Understanding Wood Grain, they write about the importance of wood selection, view, and emphasize the process of hand selection vs. mass production. In conclusion, our view is simple. Use the best materials, manage quality control and create the best product.
---
1. PROTECTIVE SHELAC COATING
At an no cost, our finishes can include oil, matte, semi-gloss or gloss lamination. This extra layer can protect your sign from scratches and harmful elements like weather and UV rays, increasing the life span of your sign.
2. HIGH-RESOLUTION LETTERING
We use state-of-the-art vinyl printers for our signs that boast a print resolution exceeding 600 dpi, which ensures your design, logo or uploaded image will be picture perfect every time.
3. SUPERIOR MATERIALS
Our signs use only the highest-quality materials and come with a 5-year durability. Vinyl makes it easy to add your business name or logo to your sign and still keep colors rich. Stains make the sign pop, and glow.