Our custom signs are made of an extremely versatile Lexan & Acrylic sheets with a glossy finish, and is the perfect choice when you want signs with a sophisticated, high-tech look. Furthermore, we provide highly durable and available in a variety of colors, Lexan is often used for illuminated, architectural, tradeshow and point-of-purchase signs.
In conclusion, these signs have an immediately recognizable & unmistakable appearance. In addition, they are available in colors, this plastic produces an upscale appearance for signage.
Increase the visual effectiveness of your custom signs by:
Adding stripes and borders
Applying multiple lettering colors
Incorporating a logo or graphic symbol
Using multiple layers of acrylic to enhance the image
Creating a three-dimensional effect—giving the perception of depth to the finished product—using clear and applying a background color to the reverse side
Designing custom applications
Using non-glare to reduce glare problems

MATERIALS: Acrylic, Lexan, 40+ Colors, Glitter, Metallic, Reflective
If you want to create one, just Contact Us. We will provide you with a quote. We will need to know colors, graphics and size.

Quick Production & Strong Quality Control
Get your sign quick and correct the first time with quality.
Incredible Impact Strength
Strong enough to handle weather, and pretty enough to get result.
Durable & Weatherproof
Thick, durable, weatherproof Lexan ideal for indoor or outdoor use.
What is the difference between Acrylic & Lexan Signs?
When it comes to sign faces for outdoor lighted signs, you can opt for Acrylite®, which is notable brand of acrylic plastic. However, the more expensive Lexan® is also an option – and a very good one. Lexan®, which is a polycarbonate, can arguably be considered the "luxury leader" of sign materials. Here are the reasons why…
It has incredible impact strength – When used to produce lighted sign faces, Lexan® may bend and scratch a bit more than. However, unlike Acrylic, Lexan is virtually unbreakable! It has up to 50 times the impact strength of acrylic or plexiglass. Furthermore, it's so incredibly impenetrable that the clear version is often used as bulletproof glass! Lexan® withstands high winds and nearly any other adverse weather conditions. Making it perfect for both indoor and outdoor signage. In conclusion, its impact strength easily sets it apart as an industry leader for lighted sign materials.
It has a high light transmission – Polycarbonate transmits light extremely well. In fact, it is believed to transmit light better than its acrylic counterparts. Lighted signs with Lexan® sign faces have both even illumination and superior optical brightness. Which can enhance your sign design. Furthermore, it can also allow you to use less LED lights and other light sources inside your sign cabinet, which lowers your production costs. Plus, because it's more difficult to see light sources beneath Lexan® panels. The end result is an impressive completed sign with great visibility. In addition, it has an added benefit, Lexan® provides excellent UV resistance.
To help you better understand their differences in durability, we like to classify them in terms of "Good and Best."
GOOD – The Acrylic and Plexiglas Plastic Family is a popular plastic choice for outdoor illuminated signage. Signs made from this material are cut to order from 4′ x 8′ sheets to fit your unique, individual needs.
BEST – The Lexan Plastic Family is an uncommonly strong sign material that has 50 times (yes, 50!) the impact strength as standard Acrylic or Plexiglas Plastic. Lexan is so tough, it's even used as bullet proof glass!
---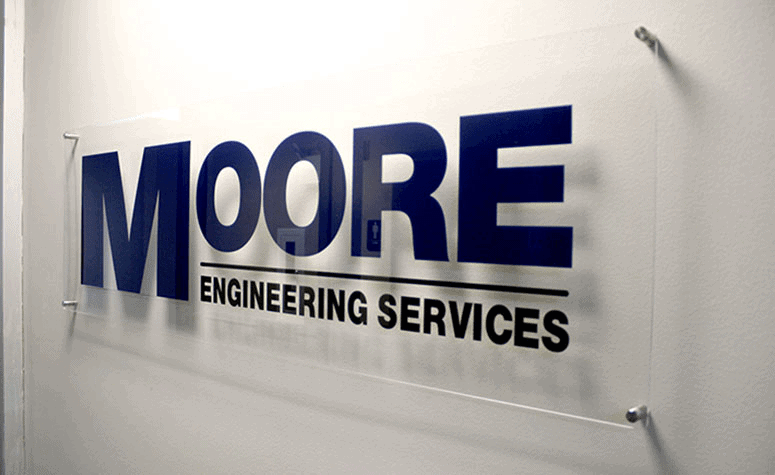 Facts about Custom Acrylic & Lexan Signage:
Ideal for indoor or outdoor signage, dimensional letters, logos & corporate offices.
For lobbies & reception areas, these clear sheets are exceptional materials to consider.
Ideal for interior lighted sign displays or small, outdoor lighted sign cabinets.
Completely waterproof.
Highly tolerant to cold & hot weather temperature extremes.
The surface of the plastic has a rich, high gloss appearance.
Available in matte finishes too.
Common thicknesses included 1/8″, 1/4″, 3/8″ & 1/2″.
Popular alternative to rigid, PVC Plastic Signs.
Available in small standard and large custom sizes.
Can be precision cut into virtually any shape.
Any design or logo can be digitally printed directly onto the material.
Numerous standard and custom colors are available.
---
Not All Stickers Are Created Equal
Master Control Woodshop & Signs offers the highest quality sticker at the most affordable price.
1. PROTECTIVE LAMINATE COATING
At an extra cost, our vinyl can include free matte or gloss lamination if you need it. This extra layer can protect your sign or transfer sticker from scratches and harmful elements like weather and UV rays, increasing the life span of your transfer sticker.
2. HIGH-RESOLUTION DIGITAL PRINT
We use state-of-the-art digital printers for our stickers that boast a print resolution exceeding 600 dpi, which ensures your design, logo or uploaded image will be picture perfect every time.
3. SUPERIOR STICKER MATERIAL
Our labels & signs are printed on a high-quality, 3 mil thick gloss vinyl with a 5-year durability. Vinyl lettering makes it easy to add your business name to your storefront, customize your products or decorate your car windows or boat.