Our Custom Car Decals & Signs will allow you to advertise your brand or give an individual touch to your vehicle, business car and truck decals are the perfect choice. Furthermore, show off your logo, branding, or use your imagination to the fullest to display custom printed graphics on your vehicle.

Get the most out of your car or truck by using it as a mobile advertising tool. In addition, these decals are perfect for any business to promote on the go.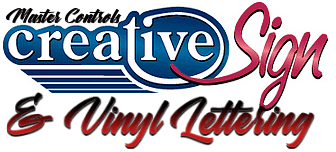 Stand out in traffic and turn heads in the streets with eye-grabbing truck stickers. We offer personalized car decals for all parts of your automobile – doors, windows, bumpers, hoods and more. In conclusion, we've got tons of layout and size options to fully customize stickers. You can create a custom Car or Truck Decal by contact us or by clicking below.
Most importantly, get a professional look for your company cars and make an impact across the city. Car and truck stickers are a simple yet highly effective way to reach out and connect with customers. Moreover, promote your brand and spread your message with custom car decals featuring your company logo and contact details.
CAR DECAL FEATURES:
Many high-quality material options
Custom cutting options
UV printing to protect graphics from the sun
Easy to apply and remove without leaving residue
Available in matte and glossy finishes
Perfect fleet advertising tool
MATERIALS: ORACAL, SISER, AVERY DENNISON, 3M, 40+ Colors, Glitter, Metallic, Reflective

Quick Production
Get your vinyl lettering fast turnaround and free shipping.
Easily Apply lettering
Our transfer tape holds your design together so that it's easy to apply.
Durable & Weatherproof
Thick, durable, weatherproof vinyl ideal for indoor or outdoor use.
What are Car Decals?
Car decals (also referred to as car stickers or car graphics) are images, graphics, or lettering printed onto or cut out of self-adhesive vinyl material and then placed on any type of vehicle. Furthermore, car decals include car & truck lettering, clear vinyl decals, opaque vinyl decals, perforated decals, and high adhesive decals. In conclusion, they are mainly used to advertise business names, logos, products, and contact information. They may also be used to show off your favorite logo, team, band, etc.
Common Uses: For outdoor use on windows, doors, fronts, or backs of any vehicle. For example, this includes cars (automobiles), trucks, commercial vans, tractors, race cars, buses, jeeps, motorcycles, dirt bikes, ATVs, UTVs, off-road vehicles, RVs, and any other vehicle.
Installation: All of our vehicle decals are very easy to install. You can find step-by-step installation instructions on the Transfer Sticker FAQ page to see the product-specific installation instructions.
Care: Regularly wash your vehicle decal with a damp, non-abrasive rag. This will remove dirt and grime from the decal and help maintain its quality and lifespan. However, avoid using power washers or high-power car washes. All decals are safe to use on areas of a window with windshield wipers.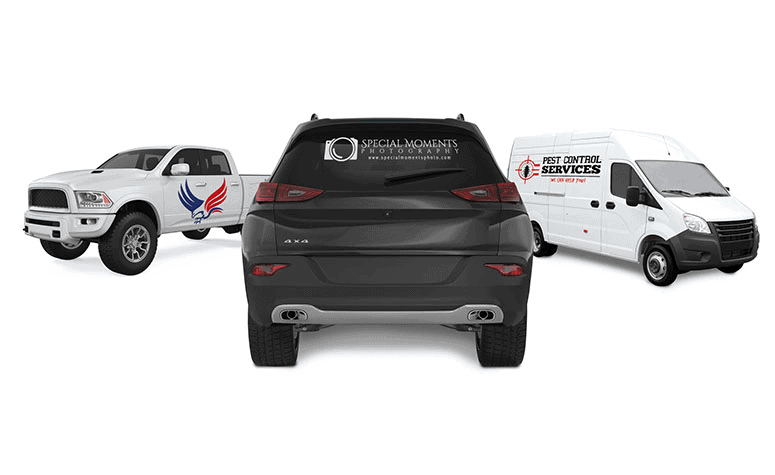 ---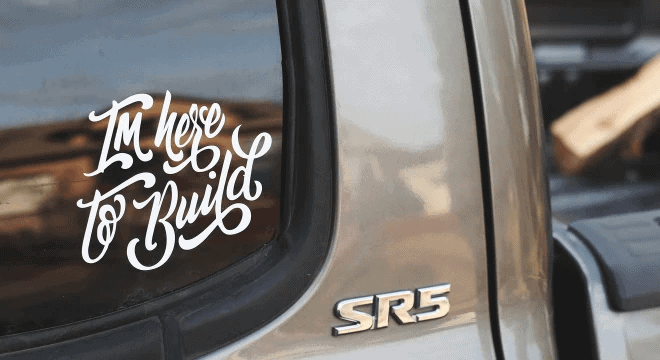 Use Your Car Window!
Car window decals are a great way to promote a variety of things on the windows of your vehicle. Create custom team decals and give them to team members, or distribute at fundraisers to support a cause and raise awareness in your community. Furthermore, custom car window decals are also an easy way to brand company vehicles or to promote your business and increase your company's exposure when driving in your personal vehicle.
The vinyl window lettering is pre spaced, ready-to-apply, and can be mirror cut. Let us help you use big, clear window decals to get the attention of potential customers at your store front.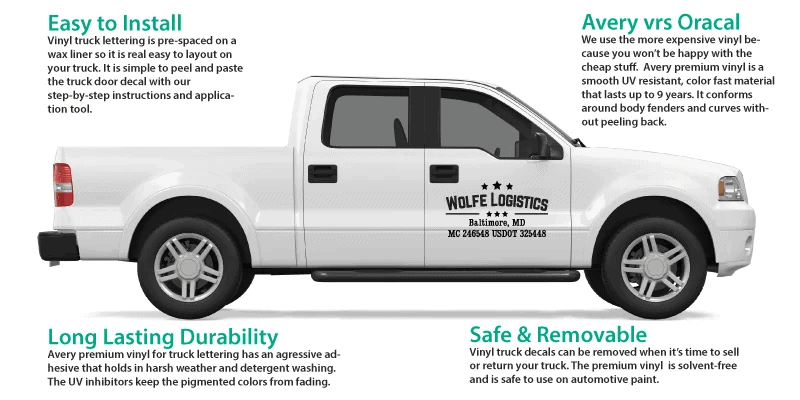 ---
Not All Car Decals Are Created Equal
Master Control Woodshop offers the highest quality sticker at the most affordable price.
1. PROTECTIVE LAMINATE COATING
At an extra cost, our vinyl can include free matte or gloss lamination if you need it. This extra layer can protect your sign or transfer sticker from scratches and harmful elements like weather and UV rays, increasing the life span of your transfer sticker.
2. HIGH-RESOLUTION DIGITAL PRINT
We use state-of-the-art digital printers for our stickers that boast a print resolution exceeding 600 dpi, which ensures your design, logo or uploaded image will be picture perfect every time.
3. SUPERIOR STICKER MATERIAL
Our labels & signs are printed on a high-quality, 3 mil thick gloss vinyl with a 5-year durability. Vinyl lettering makes it easy to add your business name to your storefront, customize your products or decorate your car windows or boat.